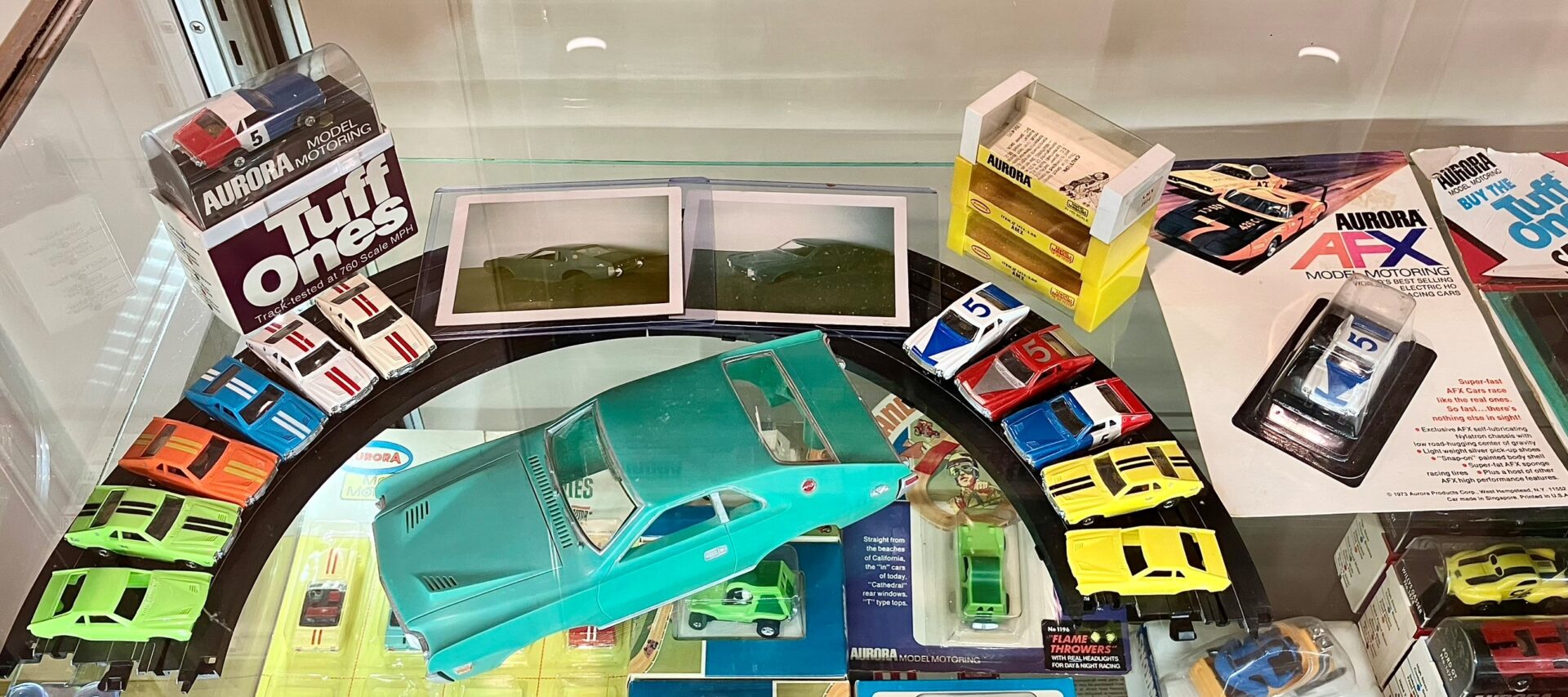 This is the Aurora AMX T-Jet Slot Car 3-up Prototype. It's a 3-up (three times the size of HO scale) entirely hand-carved acetate plastic master pattern for the Model Motoring HO Scale Thunderjet AMX slot car produced by Aurora. This 100% authentic and original artifact was created circa 1968/69 by a sculptor at HMS Associates in Willow Grove Pennsylvania. Many of today's collectors are aware of the history of HMS due to the wonderful Aurora Slot Car book written by Tom Graham in the early Nineties. They were a product development company who would take an abstract concept and bring it to a production ready three-dimensional finished prototype. Although they developed consumer products for many different companies, it is the numerous toy and hobby related businesses HMS worked for and the merchandise they created that makes this such a compelling story. Ideal, MPC, Kohner, Remco, Hasbro, Galoob, and most famously Aurora, among others, were all clients of HMS.
Legendary sculptor Bill Lemon, who hand carved the patterns for many of Aurora's best and most famous model kits, worked for HMS. HMS handled all of the slot car bodies for Aurora from the beginning of the Model Motoring line up to 1970, when Aurora went in-house to design their new A/FX line of cars. This AMX body represents the

LAST

Tjet slot car body designed and prototyped by HMS.
The level of craftsmanship and detail is amazing. Every crease and contour is beautifully hand sculpted. Remember, this was back in the days when they didn't have computer aided design and manufacture. This is NOT a test shot or other molded type of body. Everything on it has been hand carved from solid blocks of acetate. There was only one produced.
The body itself is one piece, the front grille/bumper assembly is another, the rear bumper/light bar is another, and the windshield/c-pillar windows/rear window is the fourth piece...just like on the production body. Of course, the two screw posts are also represented...they were separate carved pieces that were then glued to the underside.
The green color of the body is not paint, it is the color of the acetate through and through. Trim items were hand painted to look realistic...probably due to this body being used as a promotional item after the molds had been cut from it. Amazingly, there are no apparent flaws of any kind except a miniscule amount of wear to some of the painted trim. I acquired this gorgeous work of art from a toy dealer who purchased (along with hundreds of other unique items) the entire HMS Assoc. archives from the former owner of the company. He had liquidated the company's assets (minus the archive) in 1996, bringing to an end a long and eventful chapter in the history of the toy and hobby industry.
Dimensions are 7 9/16" x 3 1/4" x 2 1/16" tall. ​